Current Big Prize Savings Winners
Big Prize Savings gives savers an incentive to save more while earning chances to win cash awards. Save smart and win big!
$10,000 Quarterly Cash Prize Winners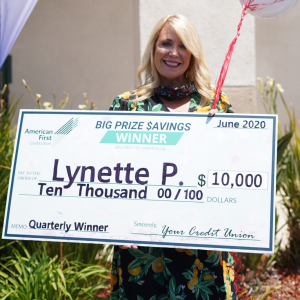 Lynette P. (Quarter 2 Winner - Orange, CA)
How has American First helped you in the past?
"It's always a pleasure coming in to do my banking and the staff is always so friendly and kind. The products that you have at the simplest level of savings is very convenient. Every time I needed advice or needed to move anything, it's always been just the easiest, hassle-free experience."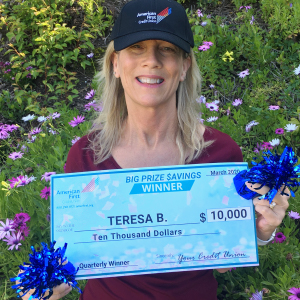 Teresa B. (Quarter 1 Winner - West Hills, CA)
What does this money mean to you?
"You have helped me out throughout the years, but these funds now will be a big financial help."
$1,000 Monthly Cash Prize Winners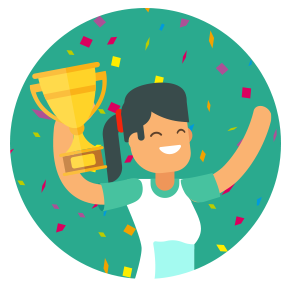 To Be Announced (September 2020)
Could it be you?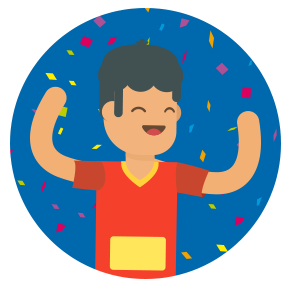 Wayne G. (August 2020 - Buena Park, CA)
What are your thoughts on winning?
"Wow! I can't believe I actually won. Initially, I referred my granddaughter to open her account, and then I came back to open mine. I'm so glad I did!"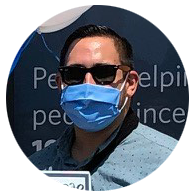 Randy V. (July 2020 - La Habra, CA)
Why is savings important to you?
"Saving and investing are important for my future, so I can fulfill my hobbies if I choose to."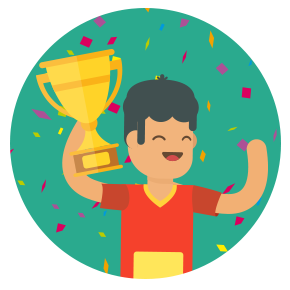 Sandra & Kenneth R. (June 2020 - La Mirada, CA)
Congratulations!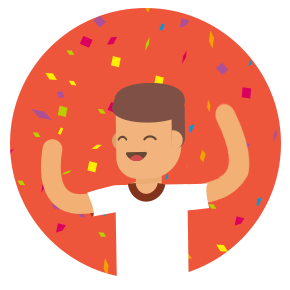 Gabriel L. (May 2020 - Los Angeles, CA)
What are your thoughts on winning?
"You always hear about people winning money, but I never thought it would happen to me."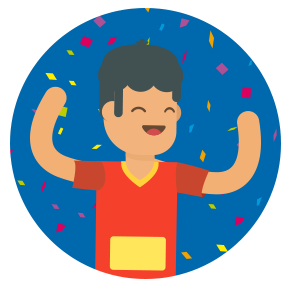 Jimmy B. (April 2020 - Cypress, CA)
Share your experience with American First Credit Union.
"At a credit union, you'll get personalized service and everyone knows your name. You walk into a bank and they don't know who you are."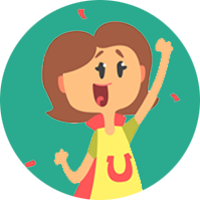 Mary S. (March 2020 - Orange, CA)
Share your experience with Big Prize Savings.
"I would tell my family and friends that they should start saving money for an emergency and open a Big Prize Savings account with American First, you could be the next winner."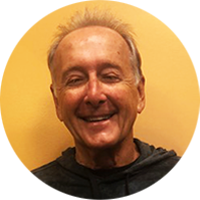 Thomas R. (February 2020 - Orange, CA)
Why is savings important to you?
"You should always invest in yourself!"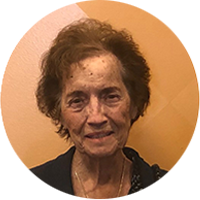 Dixie M. (January 2020 - Santa Ana, CA)
What will you do with your cash prize?
"I'm going to use this extra money to travel to visit my son in Texas."
2019 Big Prize Savings Winners
$50,000 Grand Prize Winner
Nick H. - Brea, CA
$10,000 Quarterly Winners
Jovita Q. - La Palma, CA
Steven F. - La Habra Heights, CA
Natalie R. - Rowland Heights, CA
Cynthia S. - La Habra, CA
$1,000 Monthly Winners
Ladelle W. - Cypress, CA
Darko C. - Los Angeles, CA
Steven B. - Whittier, CA
Patricia G. - Lake Forest, CA
Robin P. - Garden Grove, CA
Claudia S. - Anaheim, CA
Beth M. - Fullerton, CA
Donald K. - Orange, CA
Acquanitta G. - Los Angeles, CA
Peter B. - Dana Point, CA
Edward P. - Hacienda Heights, CA
Arturo M. - Rowland Heights, CA