2021 Big Prize Savings Winners
$1,000 Monthly Cash Prize Winner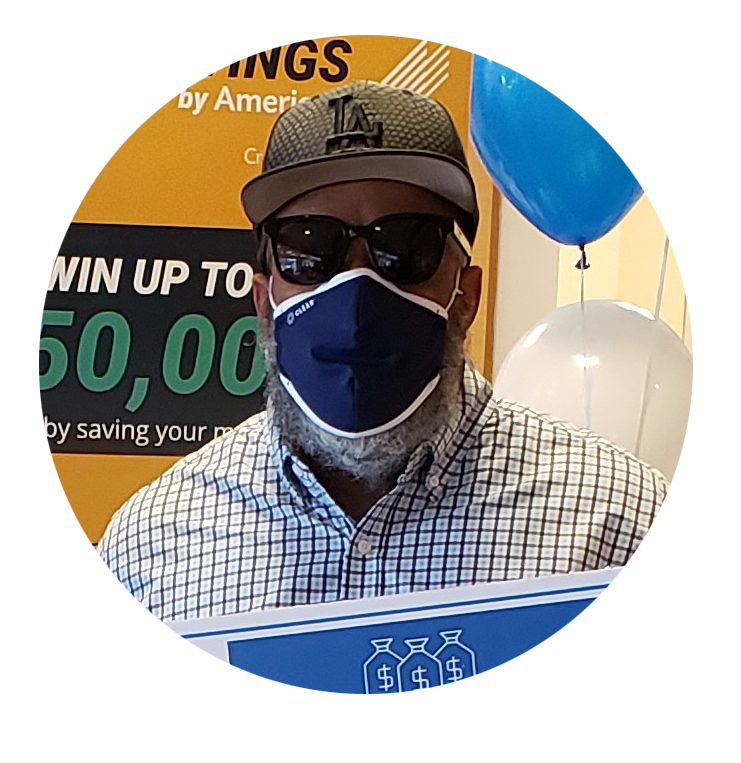 Omar B. (January 2021 Compton, CA)
Would you recommend us to your family and friends?
"I tell them American First Credit Union is the way to go. It will help you save money."
2020 Big Prize Savings Winners
$50,000 Grand Prize Winner
Dale M. - Riverside, CA
$10,000 Quarterly Winners
Teresa B. - West Hills, CA
Lynette P. - Orange, CA
John H. - Fullerton, CA
Peter S. - Diamond Bar, CA
$1,000 Monthly Winners
Dixie M. - Santa Ana, CA
Thomas R. - Orange, CA
Mary S. - Orange, CA
Jimmy B. - Cypress, CA
Gabriel L. - Los Angeles, CA
Sandra & Kenneth R. - La Mirada, CA
Randy V. - La Habra, CA
Wayne G. - Buena Park, CA
Elmer C. - Brea, CA
Mazie Y. - Whittier, CA
Janet C. - Fullerton, CA
Patricia K. - Long Beach, CA
Quotes From Our Big Prize Savings Winners

"A teller at the branch told me about Big Prize Savings. At first I was skeptical, but she explained all of the features and it made sense to me that you are promoting savings. You made my day, week, and more!"
John H.
2020 Quarterly Winner, Fullerton, CA

"I would tell my family and friends that they should start saving money for an emergency and open a Big Prize Savings account with American First, you could be the next winner."
Mary S.
2020 Monthly Winner, Orange, CA

"You always hear about people winning money, but I never thought it would happen to me."
Gabriel L.
2020 Monthly Winner, Los Angeles, CA